BARRIO (The Guardian) – Some time before dawn on an October morning, Jancerlin Martínez, 33, was preparing to embark on the next leg of her journey to the United States, where she hoped to join relatives in Florida. She had left Venezuela with her sister Jaerlin, 26, and brother Joencer, 19, a few days earlier, eager to provide a better future for her unborn child.
Martínez had saved for two years for the trip, before traveling overland to the Venezuelan border, and then flying with her siblings to the Colombian island of San Andrés. From here they planned to cross the Caribbean to Nicaragua, before continuing overland through Honduras, Guatemala and Mexico.
At around 1.30am, the three boarded a small fishing boat along with 10 other Venezuelan migrants and two local crew members. Other passengers included a seven-year-old boy, another pregnant woman, and an older woman just weeks away from her 73rd birthday.
Shortly before they set sail, Martínez wrote a short WhatsApp message to her relatives: "We found some cheaper life vests."
It would be her last message. The boat – and all 15 souls aboard – were lost at sea.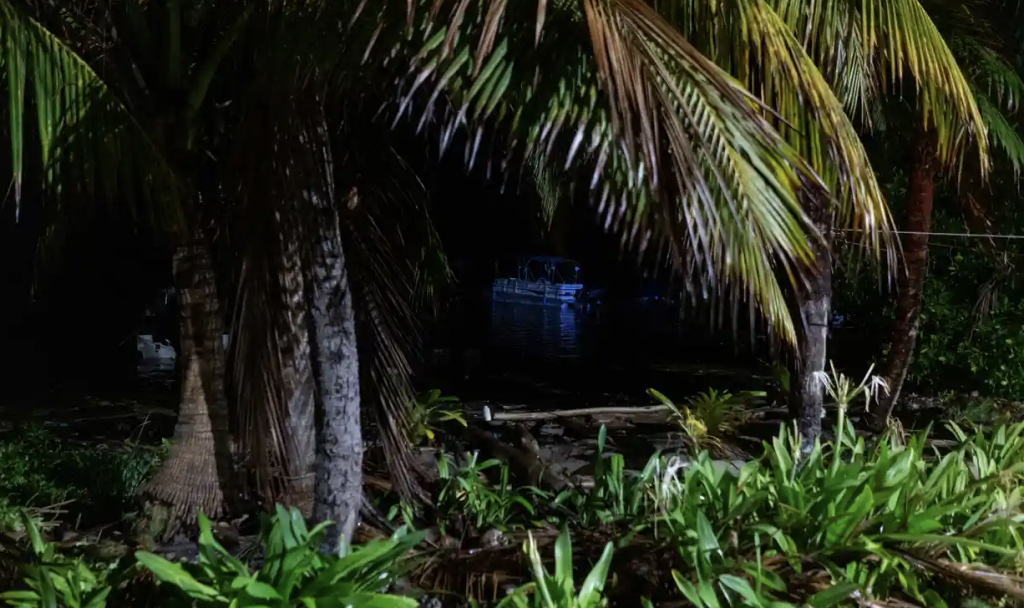 "At first we didn't know what was going on. We thought it was very odd but hoped they would reappear," said Joe Martínez, her uncle. "Soon we realised it was human trafficking."
Martínez and her fellow passengers had been victims of traffickers who offer so-called "VIP routes", promising a safer, faster and more comfortable journey by sea than the treacherous overland hike through the Darién Gap.
The traffickers, known as coyotes, pose as members of legitimate travel agencies and lure in migrants via social media and WhatsApp chains that claim the route is "100% safe".
The reality is very different. According to the latest figures from the Colombian authorities, at least 74 migrants have vanished at sea and the navy has rescued a total of 1,102 migrants along the VIP routes between 2022 and 2023.
"If they'd known of the risks, none of them would have taken the trip," said Martínez of his missing relatives.
Record numbers of migrants are risking their lives to cross Darién, the lawless swath of jungle between Colombia and Panama, where they risk robbery and rape by predatory bandits, as well as dehydration, animal attacks and jungle diseases.
As authorities struggle to control the land crossing, maritime routes are becoming more attractive for migrants heading north. At least five different "VIP routes" have been identified across Colombia's Caribbean, but the officials say the name is utterly misleading.
"The routes through San Andrés cannot be considered VIP in any way as lots of people have died on these routes," said Fernando García, the director of Migration Colombia. "They're just as dangerous as going through the Darién."
The coyotes charge anywhere from $1,400 to $8,000 per person for the passage, a price that covers all transport – flights to San Andrés, the boat from there to Nicaragua, and the subsequent bus journeys through Central America – as well as accommodation, paperwork, food, SIM cards, guides and – allegedly – guaranteed legal entrance into the US.
The vast majority of migrants taking the sea route are Venezuelans, but others from as far as Senegal, Syria, China and Uzbekistan have made the crossing.
Colombian authorities have no real way of gauging the true number of migrants who use the routes, and have classified the situation as a "grave humanitarian crisis", although more attention has been paid to the Darién, said Javier Sarmiento, the deputy attorney for human rights at the office of the inspector general.
"The national government hasn't wanted to pay attention to this. There is a total lack of control from the Colombian state," he said.
On San Andrés, the issue goes unseen and unheard. The island is a tax-free tourist hotspot whose white sand beaches and scuba diving attract tourists from Colombia and around the world – and offer the perfect cover for coyotes and their trade.
Clients arrive on the island legally, posing as tourists and encouraged to keep a low profile.
"'Don't say you're going to the US,'" one coyote, identified as Pablo, said in a WhatsApp exchange with a prospective client. "'Act deaf and dumb and don't go pointing any fingers. You've got to watch out and keep your mouth shut.'"
Before long the promise of comfort and safety gives way to the grueling realities of a clandestine sea journey, an experience often documented by TikTok videos posted by migrants.
"This is how they transported us, under surveillance and very hot. Children and adults with a lot of fear," one migrant warned in a video, as he filmed himself trudging through dense shrubbery in San Andrés.
The voyage to Nicaragua is a daisy chain of island hopping on rickety, overcrowded fishing boats.
After leaving San Andrés, the vessels stop off at a minuscule islet known as Fisherman's Cay, a remote speck of land more than 100 miles from San Andrés.
From there, migrants are transferred on to another boat and set sail either for Nicaragua's Corn Islands or directly to the coastal town of Bluefields on Nicaragua's mainland.
However, not all of them make it beyond the first stop. Often the second boat fails to show up, leaving migrants stranded – their dreams of a better life shattered, and their hard-earned savings gone to waste.
Earlier this year, 41 migrants were rescued by the Colombian navy on Fisherman's Cay. Traditionally used as a temporary base by local fishers, the tiny islet now bears the traces of a growing human exodus, its beach cluttered with ramshackle huts with worn mattresses.
Packs of instant coffee lie discarded on the white sand alongside empty cans of beans. Used nappies, abandoned clothes, children's sandals, face masks and the tourist cards required to enter and exit San Andrés lie strewn under the palm trees.
The local fishing industry has been affected as fishers realize that human trafficking can earn them much more money, said Santiago Coronado, the head of the San Andrés coast guard. "[Trafficking] is a lucrative business, and fishermen are the people who know the seas best, so many have turned to crime," he said.
Colombian authorities have increased controls across San Andrés in an attempt to crack down on irregular migration, but both Migration Colombia and the San Andrés coast guard acknowledge that corruption hinders efforts to tackle the issue.
"All the authorities involved in this work are very susceptible to corruption. They are practically in direct contact with traffickers and that's why we see links between some members of Migration Colombia and criminal groups who take advantage of migratory flows," said García.
Pablo the coyote was open about his links with local officials, saying: "We work with the navy so nobody bothers us. We pay everything."
He added: "In this business you have to make allies with people that have the power. If we want to do this work, we have to pay so that they let us work. I pay for the safety of my clients, for them to be taken care of and protected. Our work is legal that way."
Such words ring hollow for Joe Martínez, who is still grieving his lost relatives. "My heart is destroyed," he said.