BARRIO (The Globe and Mail) – At the end of a long row of low-slung auto body shops in an industrial Toronto neighbourhood lies a sprawling, humble-looking red mall. Inside the unassuming exterior, there's a maze of narrow corridors filled with Spanish-language chatter and tinny sound systems playing Mexican norteno and Puerto Rican salsa that lead you to a bustling food court. It's packed with bright signage, proudly displayed national flags and the smells of dishes that hail from all corners of Latin America. This is Plaza Latina, which has been the heartbeat of the city's Latin American community for 29 years.
The mall, wedged between three highways in North York, is home to a range of businesses, including a barbershop and a money transfer outlet. But its main draw is the food.
You can get easy-to-find items such as Mexican tacos, but also food from countries rarely represented in Toronto restaurants, such as Salvadoran hen soup, the Peruvian noodle dish tallarines saltado and Chilean humitas – a corn cake steamed inside a corn husk.
Oscar Vigil, the executive director of the Hispanic Canadian Heritage Council, brings his family to the plaza periodicallyto sample a wide range of food.
"You can find almost everything from Latin America," he says. "We have a diverse community of people from more than 20 different countries, so it's important to have different options."
Vigil says the waves of immigrants from Latin America have aligned withturmoil in their home countries, with Chileans and Argentinians coming in the 1970s, Salvadorans, Guatemalans and Nicaraguans arriving in the 1980s, and Colombians heading here in the 1990s. Today, many Mexicans, Venezuelans and Colombians are immigrating to Canada, bringing the Greater Toronto Area's Latin American population to more than 200,000.
For decades, the plaza was the only place to find many Latin American foods in Toronto. These days, similar fare is available in Kensington Market and along St. Clair Ave. W. But Vigil says nostalgia brings established community members back, while newcomers who don't speak English yet come to work and socialize in their native tongues. "The Plaza Latina will have clients for a long time because this is a good option for a segment of the community."
The plaza keeps evolving, with a new wing of food stalls, an outdoor patio and a bar with live Mexican ranchera music opening up in the past year or two.
"This is the only Latin mall in the whole of Ontario," says the plaza owner Mohammed Vakil, who is originally from India. Vakil himself has only sampled a small portion of the food, as he eats halal, but he says customers will find lots to try. "You will never get bored at this place."
Plaza Latina is located at 9 Milvan Dr., in Toronto.
Rene Chavez, a recent migrant from Mexico, comes to the plaza every weekend to sing mariachi ballads for tips. Diners at the plaza can expect to hear singers such as Chavez smoothly switch between serenading customers and announcing the latest taco specials.
In a new wing of the food court, Roza L. Ramos Moran prepares Salvadoran food at her son's stall, Pupuseria El Guanaquito Salvadoreno. Ramos Moran comes to Canada from El Salvador for several months each year to visit her son and grandchildren, she explained in Spanish. The restaurant specializes in El Salvador's signature dish, pupusas: corn-flour flatbread stuffed with chicken, cheese, pork, octopus or loroco, a tropical vine with edible flowers.
Paula Resendiz, who moved to Canada several months ago, sells tacos at Tortas el Chavo, a Mexican sandwich shop. Popular items include the meat-heavy torta cubana and tacos de cabeza – beef cheek tacos. Resendiz makes this fatty, flavourful delicacy by slicing the meat directly off a cow's skull.
Autentica Spanish Foods and Empanadas offers eight types of empanadas and a wide range of sweets, such as alfajores – a crumbly coconut cookie – and milhojas ("thousand layers") – a cake filled with dense, caramel-like dulce de leche. The most popular item is the churrasco sandwich, which layers grilled steak, avocado, melted cheese and mayonnaise onto a house-made bun to create a sloppy, tasty mess.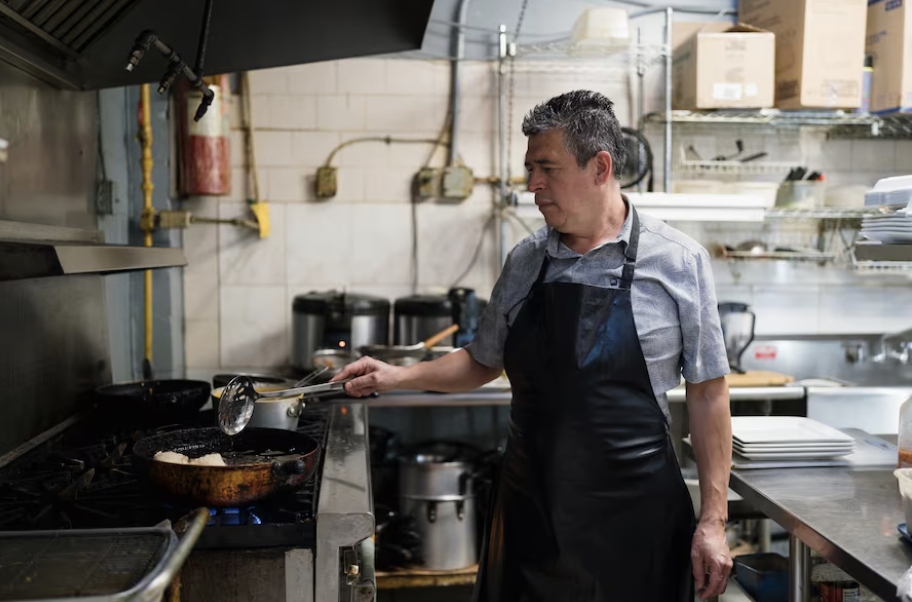 Tito Gallardo, the Ecuadorean owner and chef at El Comedor Popular Ecuatoriano, says his country's food varies widely, with recipes from coastal and mountain regions. The menu includes the traditional comfort food sopa de pata – a soup with large-kernel corn, chickpeas and sliced cow's foot – and gooey, cheese-filled empanadas, which are crispier and lighter than their Chilean cousins.