BARRIO (Hola) – In a vibrant celebration of tradition and fashion, Mattel has once again captivated the hearts of collectors and enthusiasts worldwide by releasing its Dia de Los Muertos Barbie dolls for 2023. This year's collection features the beloved Barbie doll in all her Dia de Los Muertos splendor and introduces a matching Ken doll and a stunning designer collaboration with Pink Magnolia. Timed perfectly for Hispanic Heritage Month, these dolls are a colorful tribute to the rich cultural heritage and artistic flair of Mexico's festivities.
Dia de los Muertos, or Day of the Dead, is a Mexican holiday observed on November 1st and 2nd each year. It is a time to honor and remember loved ones who have passed away, celebrating their lives with colorful altars, marigold flowers, and vibrant Calavera (sugar skull) decorations. This year's collection from Mattel embraces these traditions with bold colors, intricate calavera embellishments, and a touch of contemporary flair.
Javier Meabe, a renowned Mexican designer, expressed his excitement about the 2023 Dia de Los Muertos Barbie doll, saying, "Since this is our fifth year, I wanted to pay tribute to the doll that launched this series, and update it with new colors and fun details." And fun details there are indeed. The Barbie doll is resplendent in a pink ruffled mermaid dress adorned with sugar skulls and delicately embroidered flowers, including the iconic cempasúchil marigold.
A crown of monarch butterflies perches atop her head, embodying the spirit of transformation and rebirth. Her face is adorned with traditional calavera face paint.
She cradles a miniature ofrenda diorama featuring dancing skeletons, a nod to the joyful celebrations of Dia de Los Muertos.
But the celebration doesn't end there. The Ken doll, carefully designed to complement Barbie, features a striking blue jacket adorned with embroidered bone details at the lapels.
His calavera face paint is framed by a silver sugar skull-accented removable hat, adding a dapper charm to the festivities.
"Ken is always a fun challenge," Meabe commented, "to ensure he feels different. And I love all the detail we get into with Ken's accessories."
However, the pièce de résistance of this year's collection is the collaborative effort between Javier Meabe and Mexican designer Paola Wong of Pink Magnolia. Their creation, the 2023 Dia De Muertos Barbie Signature doll, carries the theme "let love be with you." She embodies the essence of Barbiecore, a style popularized by the Barbie films, with her all-pink ensemble.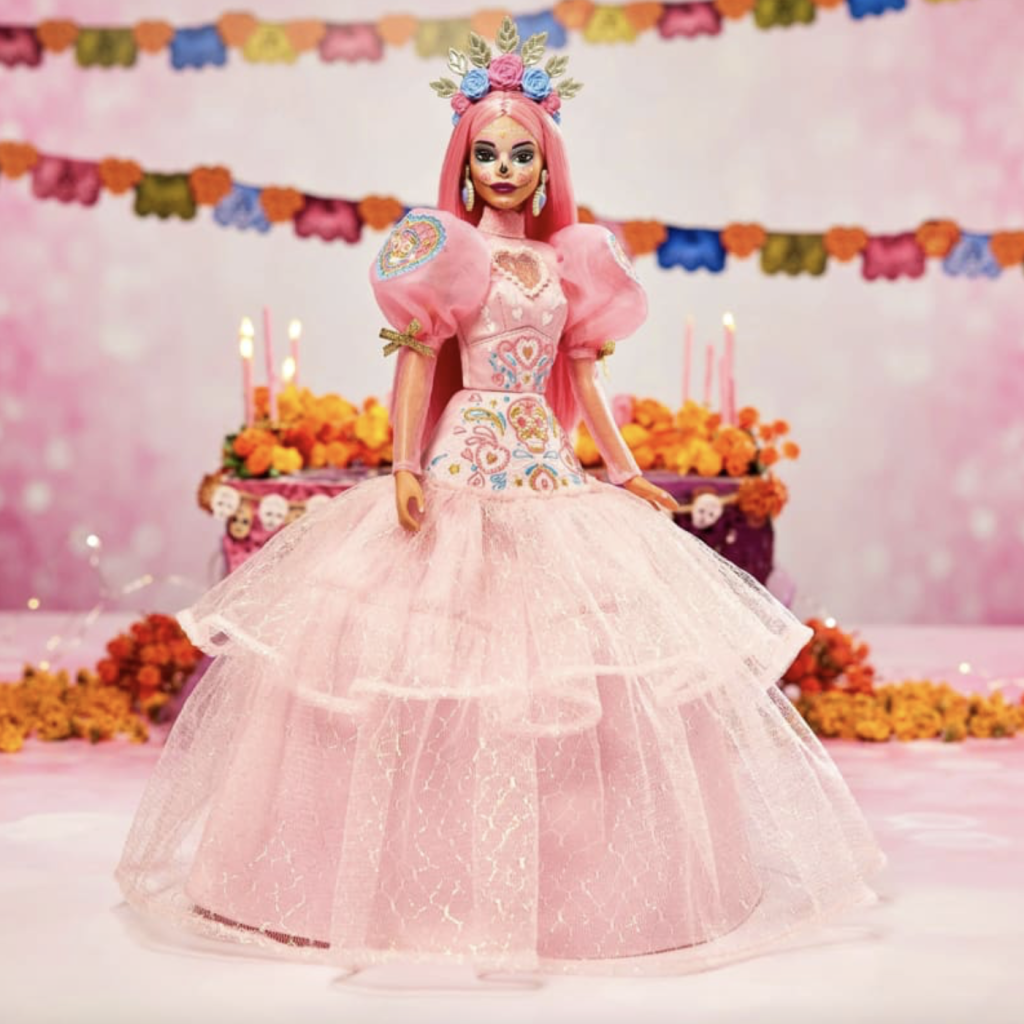 A two-tiered tulle gown adorned with heart and sugar skull details flows gracefully around her. She wears a striking floral headpiece adorned with golden leaves and statement earrings that exude elegance and charm.
These annual Dia de Muertos Barbie and Ken dolls are more than just collector's items; they prove the fusion of culture and creativity. They serve as a bridge between tradition and contemporary design, honoring the spirit of Dia de Los Muertos while celebrating the diversity and artistry of Mexican culture.
Collectors and enthusiasts eager to add these vibrant dolls to their collections can purchase them on the Mattel website. As Hispanic Heritage Month unfolds and Dia de Los Muertos approaches, these dolls provide a beautiful and meaningful way to connect with the rich cultural tapestry of Mexico and celebrate the love and memories that transcend generations.